You're partner from start to finish
End-to-End Modular Building Solutions
From initial conceptualization to completion, we plan, manage, and oversee every step of the process so you can rest easy. Our six major services include: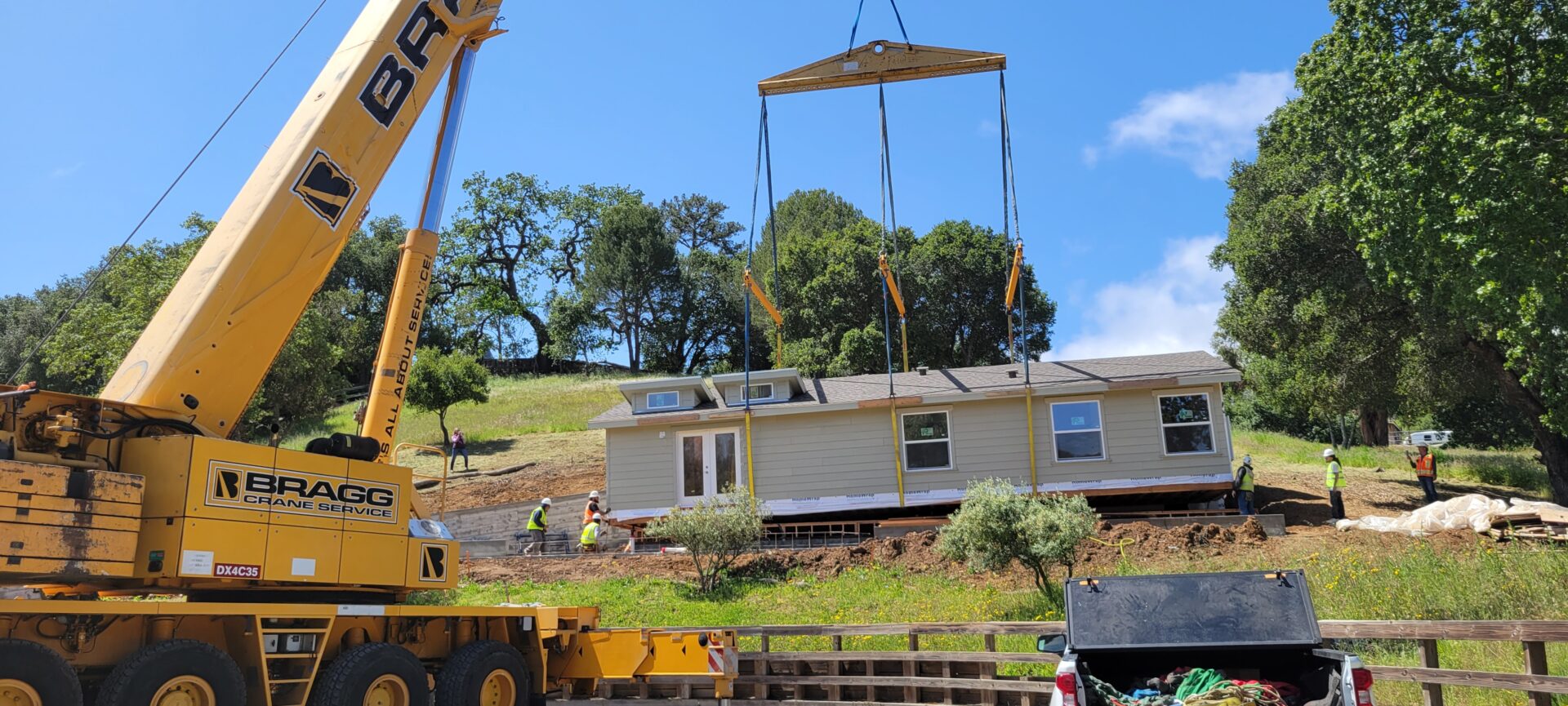 Land Acquisition
Acquiring land in California is a real challenge if you don't have it. Usually, construction project planning starts after the land is purchased, not before. The time and substantial funds required to prepare the engineered plans and obtain approval are more than what most buyers wish to spend before owning the land. Believe us, we understand.
Read More
Cutting Edge Homes does not directly help you search for land, but we have real estate contacts in many areas of California that we can introduce you to. Please sign up for our mailing list, and we can try to help. When looking for land, you will want to find a competent local real estate agent and visit as many properties as possible. Networking in your community and looking for lots not offered on the MLS can be a strategic way to find great land at a reasonable price. Start early, do research, and visit as many sites as possible. When you have land secured and in escrow, we can perform a route survey to ensure your desired home can be delivered. Finding land for new construction in coastal and urban areas can be difficult and take some time. Start soon, and happy searching!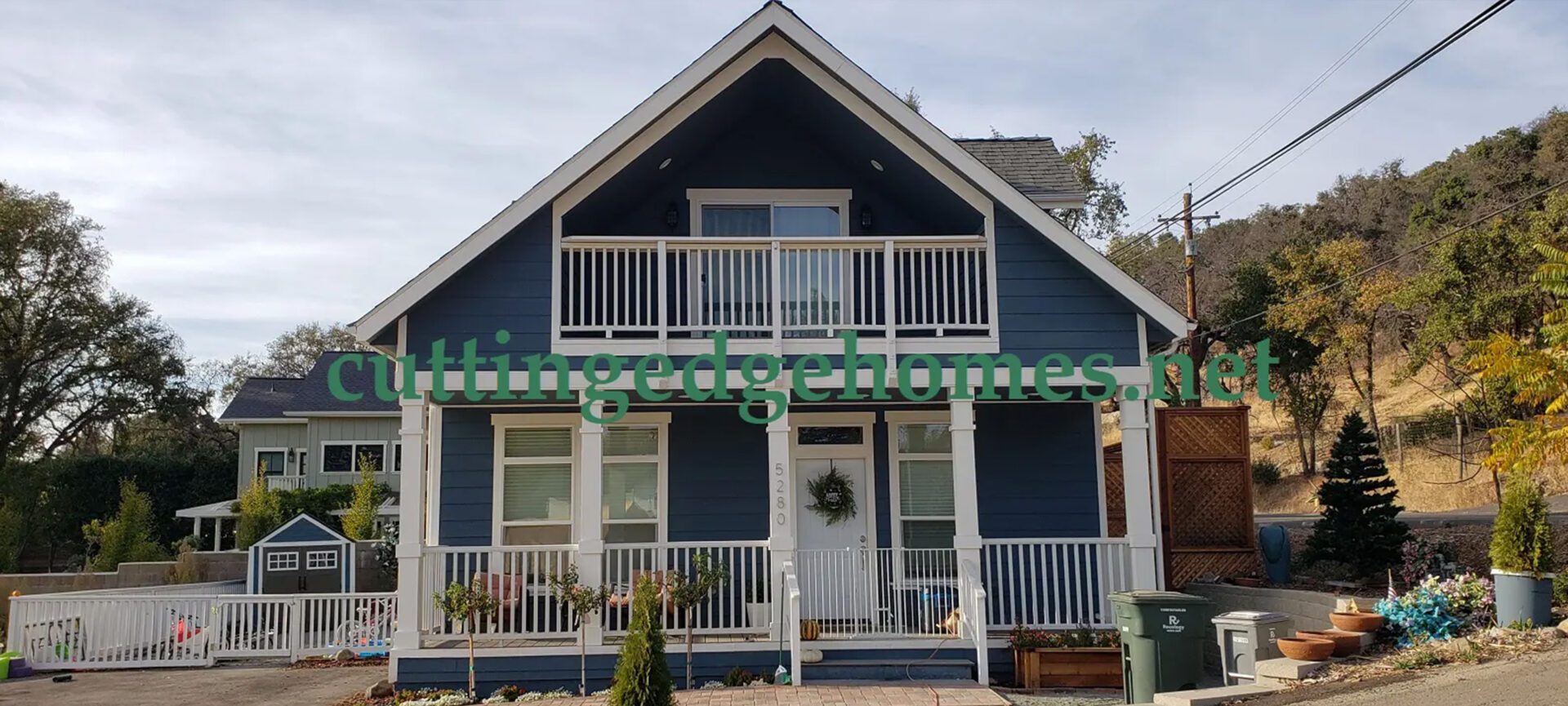 Design/Build Services
The simplest path forward is to select one of our existing home plans. Many of our clients are interested in customized plans. You may want to start with an idea or an existing "floor plan" and have us prepare the plans for your unique home. We will work tirelessly on the design of your home to get it just right.
Read More
No matter which option you choose, our internal design and engineering team will offer a complete plan preparation service. This concludes with our technicians submitting the factory and on-site construction plans for your building permit.
If you live in an area requiring preliminary HOA approval, planning department approval, or coastal review processes, we can take care of that. Given your unique site and requirements, our team can spearhead the entitlement process, ensuring the plans are processed as quickly as possible. Cutting Edge has the experience and insight from multiple years of working in high-complexity cities to help our clients exercise their right to build on their properties. We have successfully obtained permits in the California Coastal Commission zone many times.
We can add some custom features to your home in the factory, or the project's general contractor can put together additional customization once the home arrives at the building site. The sky and your budget are the only limits. You can also choose one of our many pre-designed plans from our California modular home collection, which will save you time and money.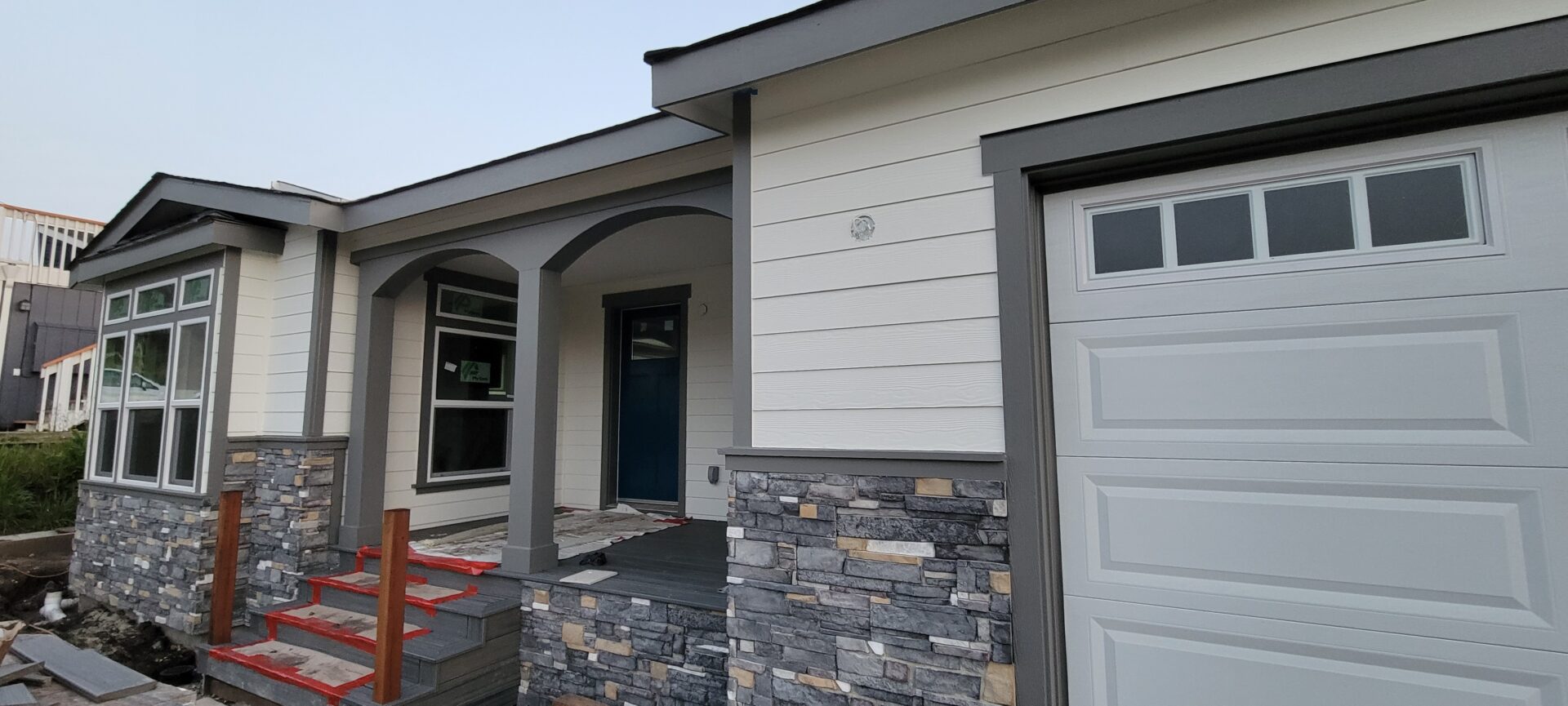 Financing
All of our homes are built in accordance with the California Residential Code (CRC), the state's traditional building code. Your home will receive financing at the same rate as other site-built homes. It's beneficial to collaborate with a lender familiar with modular construction who has the experience to underwrite and administer your construction loan.
Read More
Important Note: Our listed prices are for cash buyers of our homes or for buyers who use our recommended lenders. Additional short-term financing costs will apply if you use another lender and their payment schedule differs from the factory's required payment schedule. Our lender recommendation:
Randall Lee Nixon
OneTrust Home Loans
(858) 429-4654, Office
(619) 954-7816, Cell
rnixon@onetrusthomeloans.com
This lender specializes in new modular home construction loans.
Important Note: Lenders generally require you to obtain planning approval and building permits before issuing your loan. With the permits and your completed budget, the lender can close your construction loan.
You may contact our preferred lenders directly or your regional Client Services representative for more information on financing your new home via our lending partners.
Ordering and Delivery
While ordering your home, we will meet you in person or provide a virtual gallery where you can select your cabinets, countertops, and other finishes. Our Client Service representatives are knowledgeable, friendly, and willing to do whatever it takes to get your modular home just right.
Read More
Through the process, you will be able to get to know the people building your project.
We distinguish ourselves by working hard to provide a quality product to our clients. We share detailed information about how we build. Our team is available for more hours on more days than our competition. We excel at projects that require complex planning for approvals and assembly. Cutting Edge Homes far exceeds your expectations by providing the same attentive service throughout your modular home building project that we do on the first day we speak with you. If you like working with "detail-oriented people," you have found your team with Cutting Edge Homes.
We are not suggesting that your project will be easy. In fact, we have never built a project that was easy! Homes are complicated to build. However, we offer the most innovative, cost-effective, low-risk solutions for challenging projects. Let's get building.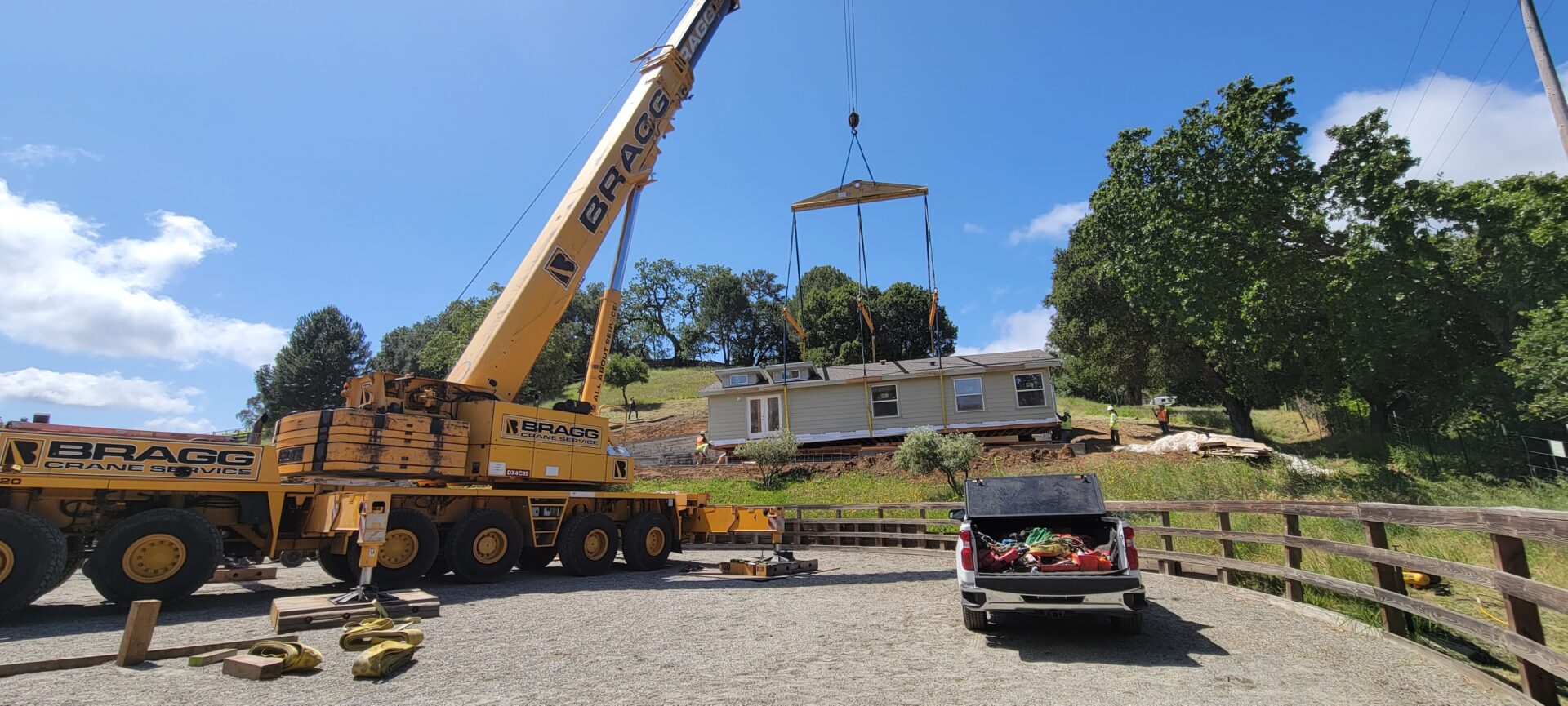 On-site Construction
We can recommend a network of experienced, California-licensed general contractors who will work directly with you to prepare the site. A factory-approved set-up crew will place the modular home on the foundation and assemble it.
Read More
We never assume that our clients will find contractors to do the work or to coordinate the project, so please let our Client Services representative know if you would like a contractor referral.
Your home will be prepared and factory-constructed according to the rigorous 2022 California Residential Code (CRC) and Cal Green Code and any specific local regulations. If you are an Owner-Builder, we can sell you the modular home and introduce you to a factory-certified set-up crew.
Some of our clients are interested in pursuing a green building certification program. We work with and provide detailed information to the licensed raters who score our homes and the on-site general contractor for conformance with the green building guidelines. As (we believe) the first builder of a permanent off-grid systems-built home in southern California and an early member of the US Green Building Council, we lead the way for the green building movement.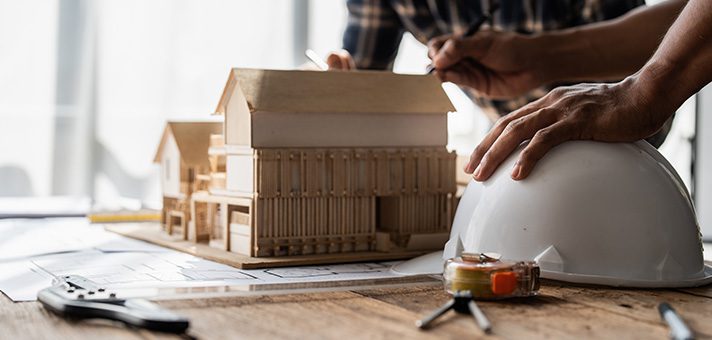 Project Communication
We will give you access to a private cloud with all of the information regarding your project. Our cloud will aid in planning, designing, and engineering your California modular home project. We have been an industry pioneer in using the cloud to communicate with our clients, vendors, regulators, and other project stakeholders.
Read More
Cutting Edge Homes continues to lead the way with comprehensive cloud-based project management services.
We will schedule a preliminary meeting to determine what home fits you best. From the planning stages to move-in, your modular home project should be 3-5 months shorter than a comparable site-built project, depending on engineering, local permitting, and approvals. Cutting Edge Homes will be there with you every step of the way, providing all the resources you need to build your modular home quickly and with minimal headache. Our job is to make your modular home construction project as smooth and stress-free as possible.